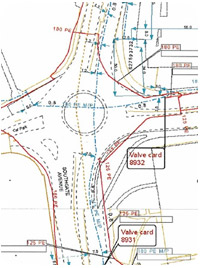 Obtaining record information from the relevant statutory utility providers can be confusing and most importantly time consuming. Discovery Surveys can undertakes this work on our client's behalf, using its expertise in the Utility mapping industry to obtain the correct information.
Discovery Surveys will Search for and identify all Utility Providers/Suppliers with apparatus on your site. Copies of the relevant Utility record information will be obtained by us and all relevant information about Services in a specific Survey area we will be collated and all relevant data and findings will be put onto an easy to read AutoCAD plan. Enabling easy interpretation and a utility map overlay.
We recommend all our Clients carry out a Utility record search prior to any excavation, we must also stress this should not be used as a substitute for a physical Utility Survey.